Jurassic World: Dominion Dominates Fandom Wikis - The Loop
Play Sound
Blazing Dragons is the title of a Canadian animated television series created by Terry Jones and Gavin Scott, and produced by Nelvana and Ellipse Animation. A coinciding graphic adventure video game was released for the original PlayStation and Sega Saturn in 1996 by Crystal Dynamics. The video game features the voice talents of several celebrities.
The series' protagonists are anthropomorphic dragons who are beset by evil humans, reversing a common story convention. The series parodies that of the King Arthur Tales as well as the periods of the Middle Ages.
From 1996 to 1998, Blazing Dragons was produced by Nelvana in Canada and Ellipse Programme in France. In the series, King Allfire and his Knights of the Square Table fight against the evil Count Geoffrey and his inept minions. It ran for two seasons consisting of 26 episodes in total.
The cartoon episodes that ran in the United States, namely Toon Disney, were bowdlerised. Parts of episodes considered too overt, such as the implied homosexuality of an effeminate character named Sir Blaze, and minor swearing, were cut for the American release, as such matters were deemed taboo to American children's programming at the time.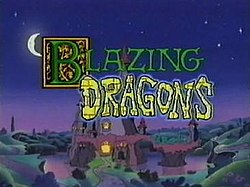 Voice talent
Edward Glen as Flicker
Aron Tager as King Allfire
Suzanne Coy as Merle the Wizard
Steven Sutcliffe as Queen Griddle
John Koensgen as Count Geoffrey (season 1)/Evil Knight No. 1
Cedric Smith as Count Geoffrey (season 2)
John Stocker as Sir Burnivere/Evil Knight No. 2
Dan Hennessey as Sir Hotbreath/Evil Knight No. 3
Richard Binsley as Sir Blaze/Minstrel
Stephanie Morgenstern as Princess Flame
Scott Wentworth as Sir Loungelot (season 1)
Juan Chioran as Sir Loungelot (season 2)
Rick Waugh as Cinder and Clinker/Sir Galahot
Legacy
The series has gained a loyal fan following and several fan-written continuations of the series have been published online. Fan endeavours have differed in scale and scope, the "Brother Mine" series of novellas on wattpad being one notable example. Since July 2016, a new project called #BDRevolution or #BlazingDragonsRevolution appeared, consisting of making the fanbase grow through fanwork and converting new fans, bringing back old fans, convincing people who worked on the franchise (game and show) to support it, to convince Gavin Scott or Terry Jones to give the franchise a new chance, through any forms such as a new broadcasting, DVDs, a third season, a movie, a second game, or comic books, and so on. The project is slowly growing and was co-created by a fan and former story editor of season 2 Erika Strobel.
Currently the entire series is available for purchase (for streaming only) at Amazon. No DVD set is known to be produced as of June 2019.