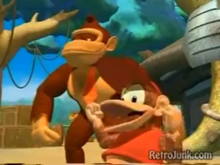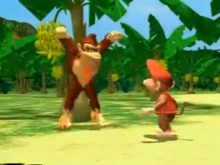 Donkey Kong Country
Genre
Action/Adventure, Comedy
Format
Animated Series
Directed by
Mike Fallows
Starring
Richard Yearwood
Andrew Sabiston
Joy Tanner
Aron Tager
Ben Campbell
Country of Origin
Canada
France
Language(s)
English
French
No. of Seasons
2
No. of Episodes
40 (

List of Episodes

)
Production
Executive Producer(s)
Dale A. Andrews
Patrick Loubert
Michael Hirsh
Clive Smith
Gérard Mital (Season 1 only)
Jacques Peyrache (Season 1 only)
Running Time
22 minutes (approx.)
Composer(s)
Pure West
Production Company(s)
Nelvana
Medialab
WIC Entertainment
France 2 (Season 1 only)
Canal + (Season 1 only)
Hong Guang Animation (Season 2 only)
Broadcast
Original Channel
Fox (Fox Kids) (1st 2 episodes)
Fox Family (rest of series)
First Shown
1997
Original Run
August 15, 1997 – July 7, 2000
Status
Ended
Wiki
Donkey Kong Country is a Canadian 3D animated television series based on the Nintendo franchise Donkey Kong specifically the Donkey Kong Country video game series by Nintendo and Rare. Donkey Kong Country first premiered in the United States on Fox's Fox Kids block on August 15, 1997. However, after only two episodes the series was moved to Fox Family where it finished airing the rest of the series. In Japan Donkey Kong Country aired on TV Tokyo.
Donkey Kong Country was one of the earliest television series to be entirely computer-animated with motion capture, which matched the artistic style of the video games. The series garnered critical acclaim in France and Japan but only marginal success elsewhere. Several elements of the animated series, such as the crystal coconut, appeared in later Donkey Kong Country video games like Donkey Kong 64, which was released a year after the series began airing on Fox.
Plot
Donkey Kong is an ape living on Kongo Bongo Island, who happens to find a coconut called the crystal coconut, which grants wishes and is capable of answering any questions asked of it. Donkey Kong becomes the protector of the crystal coconut, which is housed in Cranky Kong's cabin. King K. Rool and his minions want to steal the crystal coconut from Donkey Kong and his friends in order to rule Kongo Bongo Island.
Characters
Donkey Kong (voiced by Richard Yearwood) — The titular character and protector of Kongo Bongo Island.
Diddy Kong (voiced by Andrew Sabiston) — Donkey Kong's sidekick and buddy.
Cranky Kong (voiced by Aron Tager) — Donkey Kong's mentor, who often mixes potions. He is able to use the crystal coconut to show up as a hologram whenever he needs to alert Donkey Kong.
Candy Kong (voiced by Joy Tanner) — Donkey Kong's girlfriend. She is much less passive than in the games, and also has a different design.
Funky Kong (voiced by Damon D'Oliveira) — The resident airport manager. He looks as he did in the first game but has tan fur instead of brown.
Dixie Kong (voiced by Louise Vallance) — Diddy's girlfriend, and the only character on the show directly from Donkey Kong Country 2. Like Candy, her design differs from her game appearance (but not as much), and she also has been given tan fur like Funky.
King K. Rool (voiced by Len Carlson (episode 1), Benedict Campbell (rest of series)) — The main villain of the series, who always attempts to steal the crystal coconut and take over the island. His only noticeable change in physical appearance from the game is that his cape is much shorter.
Episodes
Donkey Kong Country has a total of 40 episodes spread over 2 seasons that aired on Fox and Fox Family from August 1997 to July 2000.