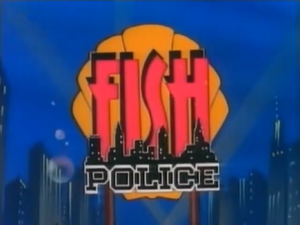 Season 1 (1992)
#

Episode Title

Original Air Date

01
"The Shell Game"
February 28, 1992
A wealthy casino owner, Clams Casino, is found murdered, and Angel is the primary suspect. Gil, however, senses something more sinister behind the murder, suspecting a link between Calamari and Clams's widow.
02
"A Fish Out of Water"
March 6, 1992
Gil is partnered with a new Casanova of a cop, Inspector C. Bass, much to his chagrin. When their first investigation together goes bust, Gil becomes convinced that Bass, despite his clean record, is on the take.
03
"Beauty Is Only Fin Deep"
March 13, 1992
A beauty contest nears Fish City, with the grand prize being a year's worth of holidays, and a jealous Pearl immediately schemes to ensure Angel wins the contest. Meanwhile, a bitter assassin begins targeting the competitors.
04
"The Codfather"
Unaired
A high-ranking mob boss, the Codfather, is found murdered shortly after attempting to "do business" with Calamari, with one of Calamari's signature napkins on the crime scene. Calamari is arrested, but Gil begins to voice doubts about Calamari's guilt when the Codfather's tax records come up.
05
"The Two Gils"
Unaired
Calamari employs Bill, a doppelgänger for Gil, to impersonate the real Inspector Gil and take his place in Fish Police as his mole. But things start to get complicated when Gil's personal life and Bill's greed are involved.
06
"No Way to Treat a Fillet-dy"
Unaired
Calamari brings his three nephews to Fish City, and around the same time, a mugger steals the Charity Ball savings from Goldie. Gil turns his eyes to Calamari's nephews, but they appear to be innocent after they and Calamari are robbed, while having to deal with accidentally having asked both Pearl and Angel to the Charity Ball.