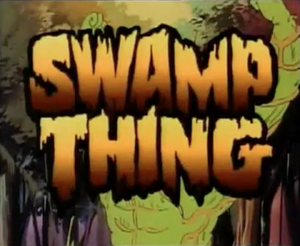 Season 1 (1990-1991)
#

Episode Title

Writers

Air Date

01
"The Un-Men Unleashed"
Mark McCorkle & Bob Schooley
October 31, 1990
Dr. Arcane turns his henchmen into mutants to attack Swamp Thing. Two kids, Delbert and J.T., along with Tomahawk, Bayou Jack and Arcane's stepdaughter Abby come to Swamp Thing's rescue.
02
"To Live Forever"
Mark McCorkle & Bob Schooley
April 20, 1991
Dr. Arcane and his Un-Men travel to the Amazon rainforest in search of "the trees that never die," and enslaves a local Indian tribe to harvest their sap.
03
"Falling Red Star"
Mark McCorkle, Bob Schooley & Mike Medlock
April 27, 1991
Swamp Thing, Bayou Jack and Tomahawk help NASA retrieve a nuclear-powered satellite that has crash-landed in the swamp. Meanwhile, Arcane desires the satellite for himself.
04
"Legend of the Lost Cavern"
Mark McCorkle & Bob Schooley
May 4, 1991
Still obsessed on gaining immortality, Dr. Arcane desecrates the Indian burial of Tomahawk's ancestors in search of the Lost Caverns, home of the fabled Fountain of Youth.
05
"Experiment in Terror"
Bruce Shelly & Reed Shelly
May 11, 1991
While showing Delbert and J.T. around the swamp, Swamp Thing is captured and taken to New Orleans for government experiments. Delbert, J.T. and Bayou Jack plan to rescue him as does Arcane for his own plans.