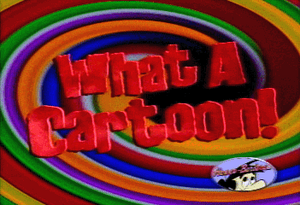 Series Overview
| Color | Season | Episodes | Season Premiere | Season Finale |
| --- | --- | --- | --- | --- |
| | What A Cartoon! | 49 | February 20, 1995 | November 28, 1997 |
| | Cartoon Cartoons | 31 | November 6, 1998 | August 23, 2002 |
#

Episode Title

Creator

Original Airdate

01
The Powerpuff Girls in "Meat Fuzzy Lumkins"
Craig McCracken
February 20, 1995 [1]
The Powerpuff Girls are judges in Townsville's yearly jam contest. Fuzzy Lumkins is upset when his meat jam doesn't win and is looking for revenge. The short laid foundations for the massively successful The Powerpuff Girls to premiere in 1998.
02
Dexter's Laboratory: Changes
Genndy Tartakovsky
February 26, 1995[1][2]
Dee Dee takes Dexter's newest invention and changes him into a bunny. They start changing each other into animals. The earliest Cartoon Network series that came from a What a Cartoon! short, it was immediately developed into Dexter's Laboratory and began airing in 1996.
03
Yuckie Duck in "Short Orders"
Patrick A. Ventura
March 5, 1995[1][3]
Yuckie Duck is a waiter in a restaurant. He keeps having problems, because the Limburger sandwich he gave to a man smelled bad and a steak he gave to a lady was too hard to cut.
04
Dino in "Stay Out"
Joseph Barbera
March 19, 1995[1][4]
Fred Flintstone goes bowling with Barney Rubble and tells Dino to keep Baby Puss out of the house. The cat always gets in, however, using disguises such as a baby, a tiger skinned rug and Santa Claus.
05
Johnny Bravo
Van Partible
March 26, 1995[1][5]
Johnny Bravo decides to catch a gorilla that escaped from the zoo, because he thinks that it will make the zoo owner fall in love him. A series based on the character, also titled Johnny Bravo, premiered in 1997.
06
Sledgehammer Opossum in "Out and About"
Patrick A. Ventura
April 2, 1995[1][6]
A troublemaking possum frustrates a dog's plans to enjoy a quiet summer day out.
07
George and Junior in "Look Out Below"
Patrick A. Ventura
April 9, 1995[1][7]
Based on the classic cartoon characters created by Tex Avery, a bird breaks a light bulb so it doesn't disturb his sleep and sits in the empty socket. George and Junior, the building's janitors/engineers, are sent to fix it.
08
Hard Luck Duck
William Hanna
April 16, 1995[1][8]
Hard Luck Duck, after venturing away from Crocodile Harley's watch, is a hungry fox's target to be cooked. The cartoon contains many similarities to one of Hanna-Barbera's previous characters, Yakky Doodle.
09
Shake & Flick in "Raw Deal in Rome"
Eugene Mattos
June 18, 1995 [9]
Shake the dog is invaded by Flick the flea. They are both accomplished musicians and find themselves in the competition of a lifetime as each one tries to outdo the other.
10
The Adventures of Captain Buzz Cheeply in
"A Clean Getaway"
Meinert Hanasen
June 25, 1995 [10]
Captain Buzz Cheeply and his robot sidekick, Slide, must escape a planet whose inhabitants have abnormally sized foreheads but small sized brains, while finding a place to do their laundry.
11
O. Ratz with Dave D. Fly in "Rat in a Hot Tin Can"
Jerry Reynolds
Russ Harris
July 2, 1995 [11]
Friends O. Ratz and Dave D. Fly live together in a trash can. One night it gets so cold that O. Ratz can't take it anymore and tries to sneak into a hotel with disastrous results.
12
Phish and Chip in "Short Pfuse"
Butch Hartman
Eugene Mattos
Michael Rann
July 9, 1995 [12]
The Bomb Squad (Phish, a wacky shark and Chip, a lynx) is told by their chief to catch a mad bomber.
13
The Fat Cats in "Drip Dry Drips"
Jon McClenahan
July 16, 1995 [13]
Louie and Elmo open a dry cleaning business together. Their first customer in the President of the United States and they have until 5:00 to get his suit clean. They run into a few problems and are running out of time.
14
George and Junior's Christmas Spectacular
Patrick A. Ventura
July 23, 1995 [14]
George and Junior are forced to deliver Santa's presents to the kids, after they fail to deliver one of Santa's letters.
15
Yoink! of the Yukon
Don Jurwich
Jerry Eisenberg
Jim Ryan
July 30, 1995 [15]
The mounted police of the Yukon have their uniforms stolen by a grizzly bear seeking revenge on them for skinning his animal friends. Yoink and Sergeant Thumbsworth Tharplung are sent to retrieve them.
16
Yuckie Duck in "I'm On My Way"
Patrick A. Ventura
August 6, 1995 [16]
Yuckie Duck is a paramedic and he has to perform life-saving feats such as pulling a tack out of a lion's posterior.
17
Mina and the Count in "Interlude with a Vampire"
Rob Renzetti
November 5, 1995 [17]
A girl named Mina is visited by a vampire named Count after she goes to sleep. They go through a series of events as the Count tries to get home before sunrise. Created by Rob Renzetti, Renzetti would later produce more Mina and the Count shorts for Nickelodeon's Oh Yeah! Cartoons in the late 1990s.
18
Cow and Chicken in "No Smoking"
David Feiss
November 12, 1995 [18]
Cow and Chicken are sister and brother. Chicken is taken to Hell by the Devil and it's up to his sister Cow to save him. Nominated for an Emmy Award, the short was picked up to become the series Cow and Chicken beginning in 1997.
19
Boid 'N' Woim
C. Miles Thompson
January 1, 1996 [19][20]
Hitchhiker Woim is going to sunny California. Boid drives him there, but on the way, they crash into a cactus. Boid gets hungry and tries to eat Woim.
20
Jof in "Help?"
Bruno Bozzetto
January 14, 1996 [21]
A cat that pinches his finger while sewing asks for help at the hospital, but its ruthless personnel offer only pain.
21
Podunk Possum in "One Step Beyond"
Joe Orrantia
Elizabeth Stonecypher
January 21, 1996 [22]
A possum named Podunk acquires an abandoned farm with 3 chickens to lay eggs for him, and has to defend them from a fried chicken titan, Major Portions. However, he is unaware of a major alien conspiracy.
22
The Powerpuff Girls in "Crime 101"
Craig McCracken
January 28, 1996 [23]
The Amoeba Boys try to commit a crime and the Powerpuff Girls help them do it right. The second and final short from What a Cartoon! to star The Powerpuff Girls, the series would later premiere in 1998.
23
Wind-Up Wolf
William Hanna
February 4, 1996 [24]
Big Bad Wolf wants to catch the three little pigs again. He decides the only way he can do it is to build a robot wolf to take his place.
24
Hillbilly Blue
Butch Hartman
February 11, 1996 [25]
Crawdad Eustace is fed-up with being treated as food and goes with possum pal Mordechai on a cross-country trip to New Orleans and being "served" in royal fashion.
25
Courage the Cowardly Dog in
"The Chicken from Outer Space"
John R. Dilworth
February 18, 1996 [26]
A fearful dog tries to stop an alien chicken's plans to invade Earth on his owners' farm. Nominated for an Oscar, the short was developed into the final series spun-off from What a Cartoon!, Courage the Cowardly Dog, in 1999.
26
Pizza Boy in "No Tip"
Robert Alvarez
February 25, 1996 [27]
Pizza Boy tries to deliver a pizza to the Arctic Circle in five minutes to get a big tip. He has many problems on the way, like getting thrown out of a plane.
27
Gramps
Butch Hartman
March 3, 1996 [28]
Gramps tells his grandchildren about his battle against invading aliens, and gets corrected by the children repeatedly.
28
Dexter's Laboratory: The Big Sister
Genndy Tartakovsky
March 10, 1996 [29]
When Dee Dee eats an experimental cookie of Dexter's design, she grows extremely tall and goes on a Godzilla-style rampage, leaving it up to Dexter to don his mecha-suit and bring her back.
29
Bloo's Gang in "Bow-Wow Buccaneers"
Mike Milo
March 17, 1996 [30]
Bloo and his dog friends sneak out of their owner's houses at midnight to set on a pirate adventure in the city.
30
Dexter's Laboratory: Old Man Dexter
Genndy Tartakovsky
March 24, 1996
When Dexter attempts to accelerate his aging so he can stay up late to watch "The Late-Early Movie", Dee Dee sneaks into his lab again and causes Dexter to turn into a 95-year-old man, which has dire effects.
31
Jungle Boy in "Mr. Monkeyman"
Van Partible
October 9, 1996 [31]
Jealous King Raymond stains the hero Jungle Boy's reputation by impersonating him and causing mayhem. Jungle Boy would later go on to serve as filler segments in Johnny Bravo (1997).
32
Godfrey and Zeek in "Lost Control"
Zac Moncrief
October 16, 1996 [32]
Godfrey the giraffe accidentally flushes his TV remote down the toilet. He and his friend Zeek spend the rest of the episode trying to get it back from the water plant.
33
Tumbleweed Tex in "School Daze"
Robert Alvarez
October 23, 1996 [33]
A Wild West outlaw needs to finish the fourth grade, while dealing with his obnoxious class rival, little Timmy.
34
Buy One, Get One Free
Charlie Bean
Carey Yost
Don Shank
October 30, 1996
A man named Reilly gets a cat named Flinch in order to impress a female cat lover named Sofie and threatens the cat that if there is a scratch on anything while he's away, he will send him to the violin factory. It won't be easy when Sophie leaves Flinch a feline playmate named Fix that ends up wrecking everything.
35
The Kitchen Casanova
John McIntyre
November 6, 1996 [34]
Casanova has a date with Doris and he can think of no better way to impress her than to cook her a meal. Unfortunately, things don't go as well as he had planned.
36
The Ignoramooses
Mike Milo
November 13, 1996 [35]
Two moose (called Ignoramooses by a watching specialist) believe they're going to be adopted by a rich hunter, and wreak havoc in his manssion.
37
Johnny Bravo and the Amazon Women
Van Partible
January 1, 1997 [36]
Johnny Bravo is left stranded on an island filled with beautiful tall women, and their bodyguard elephant. The final Johnny Bravo short to air, the half-hour series premiered in the same year.
38
Phish and Chip in "Blammo the Clown"
Eugene Mattos
Butch Hartman
Michael Rann
January 8, 1997 [37]
Blammo the Clown comes back to town and sets up bombs trying to blow up Phish and Chip.
39
Awfully Lucky
Davis Doi
January 15, 1997 [38]
A geeky guy finds the Paradox Pearl and it gives him good luck. Then he discovers that for everything good it brings, it also brings something bad.
40
Strange Things
Mike Wellins
January 22, 1997 [39]
A robot finds a job as a janitor, but winds up working for an obnoxious chief of security named Mel. He also must remember that if it says "Don't Touch", don't touch. The only computer animated short produced for What a Cartoon!, it is one of television's first exposures to computer animation.
41
Snoot's New Squat
Jeret Ochi
Victor Ortado
January 29, 1997 [40]
Snoot, the flea-like extra-terrestrial who can imitate pop culture, finds a new home at a pain-suffering dog named Al who drives his doctor crazy.
42
Larry and Steve
Seth MacFarlane
February 5, 1997 [41]
Steve, a homeless dog, is adopted by dimwit Larry (the only man that can understand what he's saying), and lives disaster after disaster when Larry takes him shopping. The style developed into creator Seth MacFarlane's Family Guy.
43
Sledgehammer O'Possum in "What's Goin' On
Back There?!"
Patrick A. Ventura
February 12, 1997 [42]
Sledgehammer O'Possum takes shelter from the cold in a mailbox, much to the dismay of a mailman named Ethel who will stop at nothing to make him leave.
44
The Zoonatics in "Home Sweet Home"
Paul Parducci
James Giordano
R.J. Reiley
February 19, 1997 [43]
Three acrobatic animals plot to escape their lousy circus lifestyle, for a better life at the new Hackensack Zoo.
45
Swamp and Tad in "Mission Imfrogable"
John Rice
Achiu So
February 26, 1997
Swamp and Tad are frogs from outer space. They are sent to Earth to get a package from Agent Newt. Unfortunately, the package is stolen by a dog.
46
Dino in "The Great Egg-Scape"
Joseph Barbera
March 5, 1997 [44]
Dino is a night watchman at the Bedrock Museum. A last-of-it's-kind egg is stolen while he is sleeping on duty and he must find it if he is to keep his job.
47
Malcom and Melvin
Ralph Bakshi
November 26, 1997 [45]
Melvin is lonely and is having trouble making friends. It gets so bad that he even attempts suicide. He runs into a trumpet playing roach named Malcom and the two become friends.
48
Tales of Worm Paranoia
Eddie Fitzgerald
November 27, 1997 [46]
A worm named Johnny keeps getting stepped on by a human, which pushes him over the edge. His girlfriend Sally tries to keep him in check. Style reminiscent of John Kricfalusi's The Ren & Stimpy Show. Kricfalusi is listed with a "Special Thanks" credit.
49
Babe!... He Calls Me
Ralph Bakshi
November 28, 1997 [47]
Malcom and Melvin play music in bars to try and pick up women. Melvin's mother thinks that her son was kidnapped by Malcom and hired a private detective to find him.
Cartoon Cartoon Shorts (1998-2002)
Cartoon shorts produced between 1999 and 2001 were entered in "The Big Pick", a contest to choose the newest Cartoon Cartoon. The winners were The Grim Adventures of Billy & Mandy, in 1999, and Codename: Kids Next Door, in 2001.
#

Episode Title

Creator

Original Airdate

01
Kenny and the Chimp: Diseasy Does It
Tom Warburton
November 6, 1998[48]
A boy named Kenny, and his pet chimpanzee, Chimpy, must watch Professor XXXL's disease laboratory while he's away. However, Chimpy causes trouble for Kenny. The style of the short and the character Professor XXXL would be used on Codename: Kids Next Door.
02
Mike, Lu & Og: Crash Lancelot
Charles Swenson
Mikhail Shindel
Mikhail Aldashin
November 7, 1998 [48]
A cast away girl named Mike asks for native inventor Og to build a car to get across the island. He also builds a specially improved model for princess Lu, which runs too fast for her. Pilot of Mike, Lu & Og.
03
The Grim Adventures of Billy & Mandy: Meet the Reaper
Maxwell Atoms
June 9, 2000 [49]
Billy and Mandy are paid a visit by the Grim Reaper when he comes to collect the soul of Billy's hamster, Mr. Snuggles. Mandy then makes a bet with him in the form of a game: if Grim loses, he lets them keep Mr. Snuggles AND become their "best friend". Pilot to The Grim Adventures of Billy & Mandy and Grim & Evil. Winner of Cartoon Network's Big Pick marathon (2000).
04
Whatever Happened to Robot Jones?
Greg Miller
June 16, 2000[49]
Robot Jones learns that he has been put into a human public school that he must now attend. Pilot to Whatever Happened to... Robot Jones?.
05
Trevor
Adam Shaheen
June 23, 2000[49]
This cartoon follows the wild world of Trevor Braithwaite whose doodles dance right off the page.
06
Nikki
Debby Solomon
June 30, 2000[49]
Two friends find unusual responses to their on-line postings after they try to cheer up a broken-hearted woman in the park.
07
Foe Paws
Chris Savino
July 7, 2000[49]
This cartoon follows the misadventures of an eccentric old woman who tries to replace her long lost children by dressing up her cat and dog in human clothes.
08
Prickles
Denis Morella
July 14, 2000[49]
This cartoon follows the mishaps of a clumsy water-phobic cactus who helps save her family from a deadly drought at Cyclone Ranch.
09
Lucky Lydia
Arthur Filloy
July 21, 2000[49]
This cartoon follows the unwittingly lucky Lydia Lucas, who is raised by half-crazy parents and narrowly misses her demise at the hands of the Baxter Boys again and again.
10
Longhair and Doubledome
Gavrilo Gnatovich
July 28, 2000[49]
This cartoon follows two philosophical cavemen who just dont fit into their prehistoric surroundings.
11
Lost Cat
David Feiss
August 4, 2000[49]
A crazy talking purple cat is wreaking havoc in town.
12
Uncle Gus
Lincoln Pierce
August 11, 2000[49]
This cartoon follows the journey of a wily unemployed geezer and his rag-tailed bunch of friends as they travel to the zoo to reunite Uncle Gus with his AWOL fiancée.
13
Sheep in the Big City: In the Ba-ginning
Mo Willems
August 18, 2000[49]
Sheep leaves Farmer John's farm in pursuit of a happy life in the city. Pilot of Sheep in the Big City.
14
Captain Sturdy
Ashley Postlewaite
June 8, 2001 [50]
The long-retired Captain Sturdy must return to action when the Union of Super Heroes cancels his pension. Upon returning to duty, he discovers that the organization has lost sight of what it means to be a superhero and has become more concerned with political correctness and marketing deals than saving the world from the evil Moid's clutches.
15
Yee Hah & Doo Dah
Kenny Duggan
June 15, 2001 [50]
A cowboy and his horse, Yee Hah and Doo Dah, reside in Manhattan's Central Park. Yee Hah enjoys the city life until he discovers that the city pavement is giving him a dreadful blister. Much to Doo Dah's dismay, he decides to stop walking and ride his horse everywhere, thereby cramping Doo Dah's power-lunching lifestyle. Eventually, Doo Dah finds the real culprit behind Yee Hah's sore feet: the branding iron, tractor, etc. that Yee Hah has been hiding in his boots.
16
Imp, Inc.
Charlie Bean
June 22, 2001 [50]
Travelling in an orbiting meteor, three Imps are up for review and are offered the opportunity to help a poor farm couple by granting them their wish for desperately needed rain to help their crops. They manage to deliver rain, but their hopes for promotion come crashing down when their meteor smashes the couple's crops.
17
My Freaky Family
John McIntyre
June 29, 2001 [50]
It's Nadine's first day of school, a significant historical event considered by her mother to be one of many "milestone days" which must be documented with a photo. She manages to make it onto the school bus without being photographed, but her "freaky" family grabs the camera and jumps on the family multi-seater bicycle for a mortifying chase to catch up with her.
18
Major Flake: Soggy Sale
Chris Kelly
July 6, 2001 [50]
Major Flake, a frenetic French cereal mascot, and his grim sidekick, Sparkles must find a way to sell their rather unappealing Major Flake cereal before their boss, Sylvia Soggy, pulls the breakfast treat from store shelves.
19
Utica Cartoon: Hotdog Champeen
Mike Milo
July 13, 2001 [50]
When Dan Bear and Micah Monkey learn that they can get free hot dogs by beating the current hot dog eating record at their local diner, they are up for the challenge. Dan Bear reigns as hot dog champ by consuming loads of free hot dogs, continually beating his own record. For awhile he enjoys the free franks until beating the record becomes too much even for him.
20
Kids Next Door: No P in the Ool
Tom Warburton
July 20, 2001 [50]
When the villainous Mr. Wink and Mr. Fibb extend the adult swimtime to extreme lengths at the neighborhood pool, the Kids Next Door plan to strike back with vengeance. Pilot of Codename: Kids Next Door. Winner of Cartoon Network's Big Pick marathon (2001).
21
Swaroop
Mike Milo
July 27, 2001 [50]
Swaroop and his family are trying to assimilate their Indian heritage with modern American culture. The differences become glaringly apparent when their neighbor brings home a cow to throw on the barbeque. Swaroop decides to hide the sacred cow before the neighbors can cook it for dinner.
22
Ferret and Parrot
Scott Morse
August 3, 2001 [50]
A ferret and parrot fight for the affection of a comic strip character. Meanwhile, their owner tries to get rid of ants that have infested the house.
23
A Kitty Bobo Show
Kevin Kaliher
August 17, 2001 [50]
Kitty Bobo wants to prove that he's cool by getting a cell phone. Unfortunately, he doesn't seem to be receiving many important calls, thereby reducing his cool factor, so he begins to fake incoming calls. It's only a matter of time before everyone catches on to the farce.
24
Commander Cork: Space Ranger
Mike Bell
August 23, 2002 [51]
Commander Cork is an enthusiastic and overzealous, though not very bright, do-gooder. When he meets Peggy and Petey Paddle, a brother and sister duo who share a fascination with outer space, he decides to bring them with him on his wacky space adventures.
25
Jeffrey Cat: All Dogs Don't Go To Heaven
Mark O'Hare
August 23, 2002 [51]
Jeffrey Cat has never met a crime he couldn't lick. A surge in the pet population raises the need for a pet investigator. Jeffrey Cat, the sergeant on all pet-related cases, makes it his mission to safeguard the rights of all of the pets in the community. When a friendly dog is accused of attacking a neighbor, Jeffrey Cat smells a rat.
26
Longhair and Doubledome: Where There's
Smoke...There's Bob
Gavrilo Gnatovich
August 23, 2002 [51]
In their second animated cartoon outing, Longhair and Doubledome discover fire. Having never before seen fire, Doubledome concludes that the blaze must be his son, Bob.
27
Maktar
Gavrilo Gnatovich
August 23, 2002 [51]
Slashing through our gassy universe, hurtling through our own Milky Way, an invader from the far reaches of Space comes knocking upon our atmospheric door. Sent by Zen and his Space Council, Maktar's mission is to conquer Earth. But, Maktar, a sniveling middle manager and galactic pushover, couldn't invade someone's privacy let alone conquer our Great Blue Planet.
28
Fungus Among Us
Wes Archer
August 23, 2002 [51]
Keeping clean is a dirty business, as the animated mascots from cleaning product commercials well know. Fungus Among Us follows the trials and tribulations of the fungus who must coexist with the cleaning agents that have been created to destroy them.
29
Low Brow
George Krstic
August 23, 2002 [51][52]
During a routine trip to the garbage dump, suburban misfit Coop discovers an advanced robot from the future. Coop brings the treasure home and retools it to suit his modern-day slacker needs. Pilot of Megas XLR.
30
Bagboy
John Mathot
August 23, 2002 [51]
Parker is a typical 14 year-old with the usual adolescent trials, except when he is a Bagboy. Carefully selected by the elite intergalactic council, known as the Bagi, Parker moonlights as a powerful superhero.
31
Colin Versus the World
Stu Gamble
August 23, 2002 [51]
Colin is a color-blind chameleon whose life is full of mishaps and blunders. While working as a shelf stocker at Cheapway's Supermarket, Colin passes the days with dreams of becoming a Lounge Lizard in Las Vegas.
References