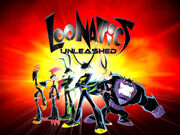 Loonatics Unleashed is an American animated series created by Warner Bros Inc began airing in 2005 on Kids' WB, and lasted for Two seasons before it was cancelled. It follows the descendants of the Looney Tunes as Superheroes protecting acmetropolis from evil.
Plot
The events of Loonatics Unleashed Occur in the year 20772 the year the meteor strikes the city planet of acmetropolis knocking it competely off it's axis. Instead of destroying the planet, the meteor crashes in a waterfront, releasing waves of supernatural energies some of the planet's citizens genetic codes to be severly altered, granting them special abilities and strengths. A mysterious woman named Zadavia calls upon six teenagers of the affected residents to form a team of superheroes. She becomes there commander dispatching them for the purpose of combating any and all threats to Acmetropolis and its citizens the new formley team is known as the Loonatics and reside on the 134th floor of a large tower. These characters are the descendants of the Original Looney Tunes characters, according to multiple press release and offical soruces.
Characters
Ace Bunny (Voiced by Charlie Schlatter) - is a clever savy born leader, who wears his uniform with yellow accents of Bugs Bunny's descendant. Ace is the team's leader He fights in close proximity of his enemies. using his martial arts skills more than his laser vision. An adept martial artist and sword-hare his sword as revealed in the second season is a weapon from the planet freeling (link to Friz Freeling) called the Guardian Strike Sword.
Lexi Bunny (Voiced by Jessica DiCicco) - is the descendant of Lola Bunny she was a cheerleader at acmetropolis university before the meteor hit she got superpowers like Brain Blasts sonic hearing and sonic scream (In Sypher).