Silver Surfer
Genre
Action/Adventure, Superhero
Format
Animated Series
Created by
Larry Brody
Jack Kirby
Starring
Paul Essiembre
James Blendick
Camilla Scott
Colin Fox
Country of Origin
United States
Language(s)
English
No. of Seasons
1
No. of Episodes
13 (List of Episodes)
Production
Executive Producer(s)
Stan Lee
Avi Arad
Running Time
22 minutes (approx.)
Production Company(s)
Marvel Entertainment Group
Marvel Studios
Saban International A. G.
Broadcast
Original Channel
Fox (Fox Kids)
First Shown
1998
Original Run
February 7, 1998 – May 16, 1998
Status
Ended
Wiki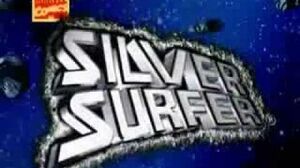 Silver Surfer
, also known as
Silver Surfer: The Animated Series
, is an American animated television series based on the Marvel Comics superhero created by Jack Kirby. The series aired for one season on the
Fox Kids
block in 1998.
Plot
The series utilizes a serialized storytelling approach. As with many Silver Surfer comic book stories, episodes tackle a range of social and political issues, including imperialism, slavery, non-violence, and environmental degradation.
In the first episode, Zenn-La is depicted as a major centre of enlightenment and learning in the universe. Conflicting aliens go there in order to learn about living in peace and tolerance — the antagonistic Krees and Skrulls being a good example. When the Silver Surfer, a native of Zenn-La, breaks his bargain with Galactus, the latter retaliates by sending the planet to an unknown part of the galaxy. Thus, much of the series is about the Surfer trying to find Zenn-La and being reunited with Shalla-Bal.
The Silver Surfer is the Herald of Galactus for a very short time (episode wise). He is replaced by Nova after the young girl somehow teleports onto his ship after Galactus and Silver Surfer part ways. Both heralds have regular appearances on the show and even team up at times.
Characters
Silver Surfer / Norrin Radd (voiced by Paul Essiembre)
Galactus (voiced by James Blendick)
History
Blending cel and computer animation, the series is rendered in the style of Silver Surfer co-creator Jack Kirby. While inspired by various Silver Surfer comic book stories, the series alters the original mythos in some key ways. The most notable change is the removal of the Fantastic Four from the Galactus Trilogy, the story that serves as the foundation for the first three episodes of the series. In this version, the Silver Surfer, who has had the memories of Norrin Radd partially restored to him by Thanos, protects Earth from the hunger of Galactus because it reminds him of Zenn-La.
Many other characters from Marvel's cosmic stable appear in the series, including The Watcher, Ego the Living Planet, Pip the Troll, Drax the Destroyer, and Adam Warlock. Most of the characters featured in the series differ from their printed-page incarnations. For instance, Thanos serves Lady Chaos rather than Death and Adam Warlock is an alien supersoldier designed to fight the Kree.
The series was cancelled after one season. Eight episodes were written for the second season before production was shut down. According to series creator Larry Brody, the cancellation was the result of a legal dispute between Marvel and Saban Entertainment.[1]
Episodes
Silver Surfer has a total of 13 episodes spread over 1 season that were produced from February 1998 to May 1998.
References
↑ "Larry Brody's Guide to Writing for the Medium Everyone Loves to Hate ". TVWriter.net. http://tvwriter.net/?page_id=47

. Retrieved on March 16, 2014

.

 
Community content is available under
CC-BY-SA
unless otherwise noted.