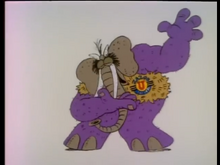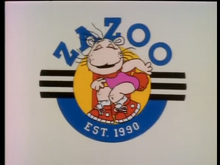 Zazoo U
Genre
Comedy
Format
Animated Series
Created by
Shane De Rolf
Written by
Shane DeRolf
Pamela Hickey
Dennys McCoy
Starring
Michael Horton
Jerry Houser
Brian Cummings
Neil Ross
Tress MacNeille
Susan Silo
Country of Origin
United States
Language(s)
English
No. of Seasons
1
No. of Episodes
13 (

List of Episodes

)
Production
Executive Producer(s)
Phil Roman
Shane De Rolf
Running Time
22 minutes (approx.)
Composer(s)
Jim Covell
Production Company(s)
Wang Film Production Co., LTD.
Cuckoos Nest Studio
Broadcast
Original Channel
Fox (Fox Kids)
First Shown
1990
Original Run
September 8, 1990 – January 19, 1991
Status
Ended
Wiki
Zazoo U is an American animated series that aired on Fox's Fox Kids block on Saturday mornings from September 8, 1990 to January 19, 1991 with only 11 of the 13 episodes aired, as the series was put on hiatus in January and then ultimately cancelled in April 1991.[1] On July 23, 2001, Zazoo U and other properties of Saban Entertainment were sold to The Walt Disney Company.[2]
Plot
The series follows the adventures of a group of "Americanimals," who attend a zany institute of higher learning called Zazoo U. Each episode is based on a poem written by show creator Shane De Rolf, that teaches a moral lesson to children.
Characters
Boink (voiced by Michael Horton)
Buck (voiced by Dorian Harewood)
Bully (voiced by Brian Cummings)
Dr. Russell (voiced by Stu Rosen)
Grizzle (voiced by Jerry Houser)
Logan Chomper (voiced by Neil Ross)
Ms. Devine (voiced by Tress MacNeille)
Rarf (voiced by Danny Mann)
Seymour (voiced by Lee Thomas)
Slogo Bonito (voiced by S. Scott Bullock)
Tess (voiced by Susan Silo)
Episodes
Zazoo U has a total of 13 episodes, spread over 1 season, that were produced from September 1990 to January 1991. The final 2 episodes were left unaired in the United States.
References